Did you come here from a link on another website? See page bottom for latest version of this page.
This site is not associated with any ski area. Use of any page means you accept the SkiMyBest Site Use Agreement or EXIT NOW.
SKI SEASON 2020-2021 is winding down and Bill is no longer available to be reserved for private lessons this year. Stay tuned for news on 2021-2022. And thanks for your support.
Update on availability of Bill Jones for winter 2020-2021: Now available to be reserved for private lessons.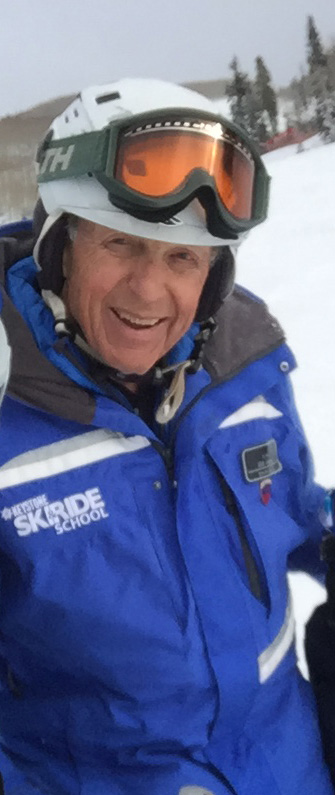 How To Reserve a Private Ski Lesson with bill jones
by Bill Jones, Ski Instructor
Certified Professional Ski Instructor (Registration #110478), Level III

Let's ski!"...Bill Jones .
To book your private lessons at Keystone (new and existing clients)--and at other Vail Resorts (existing clients only)--learn about lessons below, then scroll to page bottom for booking info.

For background on Bill, go to BILL JONES, Ski Instructor. Also, Read what others have said about ski lessons with Bill. Bill teaches alpine skiing (no terrain park, cross-country, telemark, or snowboard) to adults and children age 8 and up (a parent[s] may be present if you prefer).
Also note that Bill or any instructor cannot be reserved for group lessons.
Read Bill's 2019-2020 annual ski letter. "3 ski styles: Double-edge Death Grip, Lock and Step, Glider", "Ski Boot Prep", "Tip Forward They Say. Why", "It Depends"
Read Bill's 2018-2019 annual ski letter. Another look at "PSIMAN—The Movie"
Read Bill's 2016-2017 annual ski letter: updates on skiing, equipment tips, and technique brush-ups.
Bill is available for full-day private lessons in alpine skiing at skill levels from 1 through 7 and for ages 8 and up. "Private" lessons may include multiple persons.
Information/pricing for full-day private lessons: Make arrangements at www.keystoneresort.com (Skimybest.com is not a Vail Resorts website.)
If renting equipment (not included with lesson), consider renting it at the resort. That way, if an equipment adjustment is needed it can be done with less interruption to your lesson. Get skis, boots, and poles (some rental agents say poles are not needed for beginner adults--not so.; get them). The company rentskis.com: exits has locations near lift bases at most of the Vail Resorts ski areas and you can reserve your gear online--useful as at busy times equipment may be limited in some sizes or types and wait-times for fitting your gear can be less.
If you will rent equipment at a resort, arrive at the rental shop for fitting at least one hour before your lesson, more on busy days such as holidays, school vacations. Or rent it the afternoon or evening before your lesson--check for shop hours.
For more considerations on private lessons, and for comparing pros and cons of private lessons versus group lessons, go to Why Take a Lesson from a Professional Ski Instructor and scroll down to "Private vs. Group Lesson".
What you may expect in a Level 1 private ski lesson at River Run, Keystone
Location maps of some private lesson meeting areas at Breckenridge and Keystone
Share your personal skiing information with Bill so he can plan the best experience to meet your needs and wishes.
Get on a contact list for Bill's annual pre-season letter.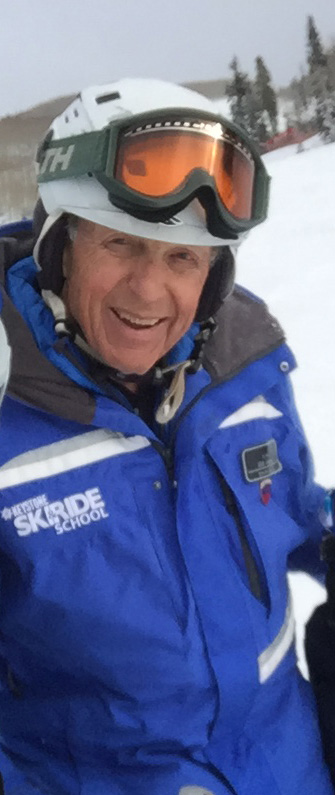 Contact Bill Jones:
e-mail Bill Jones This is the best way to contact Bill.
home phone: 970/468-7673 (phone has answering machine)
cell phone: 970/390-8821 (when in range, daytimes only; if no answer leave message but also call home phone as cell phone does not work at rural residence.)
postal mail: Bill Jones, 637 Blue Ridge Road, Silverthorne, CO 80498
You may contact Bill with inquiries but do not ask to make arrangements for lessons other than through the ski school. Why?

Booking info for full day private lessons with Bill Jones--

For Keystone (new and existing clients)--and for other Vail Resorts (existing clients only) book at the Keystone Ski School 1/800/255-3715 or online at www.keystoneresort.com, I would be honored to have you enter Bill Jones as your instructor choice (although I've been around a while, not all the booking agents have been and you may need to have them book William Jones). After you have made your arrangements, please e-mail me those at billjones@skimybest.com and include your goals. We can also arrange our meeting place and times. If you prefer, email me first and describe what you would like including ages and ability levels of skiers, experience skiing, and where you want to ski so I can comment on how best to set up lessons. I will even advise if I will not be your best choice.
Thanks, and I hope to ski with you soon--"Let's ski!"
Bill Jones
This "How To Reserve a Private Ski Lesson with Bill Jones" page last modified April 17, 2021. Did you come here from a link on another website? For latest version of this page, copy to your browser: http://www.SkiMyBest.com/skiprivr.htm.
Copyright © 2013, 2014, 2015, 2016, 2017, 2018, 2019, 2020. William R Jones.