Did you come here from a link on another website? See page bottom for latest version of this page.
This site is not associated with any ski area. Use of any page means you accept the SkiMyBest Site Use Agreement or EXIT NOW.
WHAT YOU MAY EXPECT IN A LEVEL 1 private ski LESSON AT rIVER RUN, kEYSTONE
by Bill Jones, Ski Instructor
Certified Professional Ski Instructor (Registration #110478), Level III
How To Reserve Private Ski Lessons with Bill Jones
Back to How To Reserve Private Ski Lessons with Bill Jones
Map of River Run Village, Keystone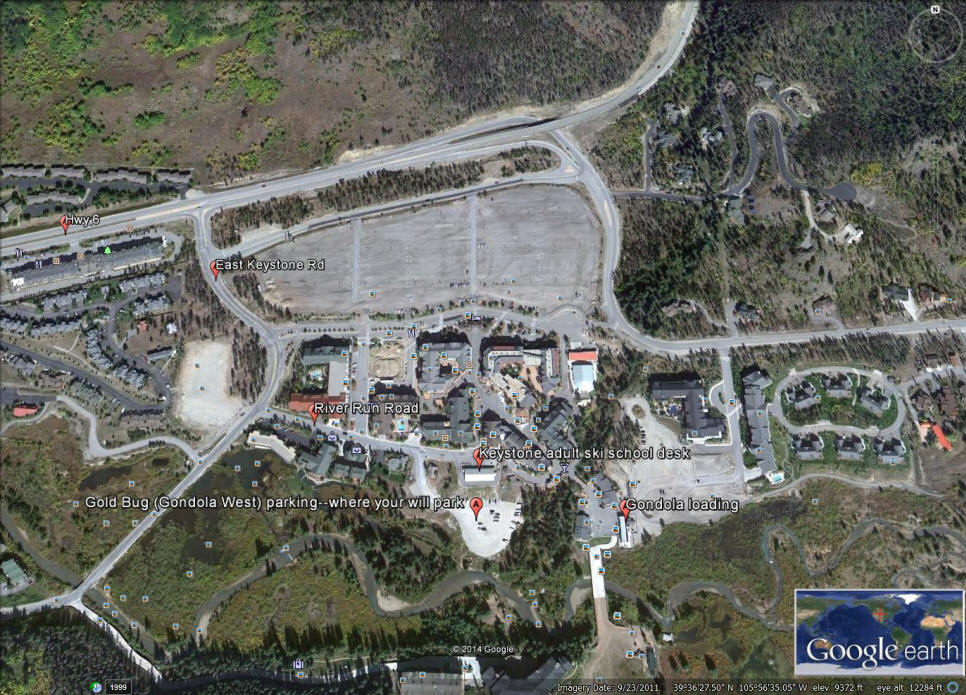 From Silverthorne or Dillon, follow east on Hwy 6 and drive about 8 miles, passing the Keystone Lodge, to East Keystone Road. There turn right into River Run Village and park in the free lot or go to River Run Road where you will turn left. On River Run Road turn right into the pay Gold Bug (also called Gondola West) Parking Lot.
From either parking lot, walk to the east (right) end of the long rectangular structure that is a sort of yurt tent building. Inside find the Keystone adult ski school desk to do your paperwork. There may be a place to put on ski boots and lockers to leave shoes, etc. if you wish. There is also a rental shop in this building.
When done go outside to the east. Ski school staff will indicate where the private lesson ski school meeting place is. I will be there (in a blue uniform) to meet you unless I find you sooner in the building. Once together, we will walk to the Gondola loading (there are rest rooms and drinking fountains on the way). We will board that (cabins take up to 8) with our skis and poles, which go inside with us.
Assuming we need to start at the very beginning of learning to ski and the terrain available we will go up the gondola to a point about 1/3 from the bottom where there is a mainly level place to begin getting used to equipment, sliding, walking, stopping, initial turning, etc. Alternatively we may do this at the gondola top.
Once this Stage 1 is accomplished we will get back on the gondola and ride to the top where there is slightly more sloping terrain for the Stage 2 of learning. Here there is a moving carpet to carry us back up after we have skied down short distances. Near this Stage 2 terrain is another set of rest rooms, possibly more lockers, a warming area, ski patrol center, drinking fountains, and a cafeteria. If a full-day lesson, we should stop for a lunch break (and others as needed) to preserve energy as there is a lot expended in the early stages of learning to ski. (The cost of lunch is not included in the lesson price; reservations may be required.)
If we master Stage 2 of learning, there is another Stage 3 slope that is again a bit steeper and is served by a chairlift.
Most folks on the first day do not get beyond Stage 3 (if they get to it), for the next stage is to descend the Schoolmarm ski run back to where we started the day. Because Schoolmarm is a 3.8 mile run, it is unwise to start down it without efficient technique and especially at the latter part of the day when folks can be tired and skier traffic heavy. It is usually more productive to continue practicing on the Stage 3 terrain and then ride the gondola back to our start.
There are some environmental factors to consider. The weather could range from too hot to too cold, so dressing in layers with clothing that has zippers and vents helps. Sunglasses are needed if a bright day, goggles if cold or snowing. A gaiter for the neck is useful when cold. Gloves or mittens are necessary even if warm (to reduce injury chance if a fall). It is difficult to predict weather at the top of the mountain when at the bottom, and the weather can change anyway, so it is best to have options with you. Hats with ear coverings are wise. Children in childrens' lessons or private lessons are required to wear helmets when in lessons (these are available at Keystone rental shops), and the same is recommended for adults. Finally, altitude effects can occur in people, for the lift base is at 9,000 feet whereas the mountain top is at 11,640 feet; getting adequate rest before a ski day and staying hydrated and nourished are said to help reduce altitude effects and sunscreen is always needed on exposed areas of skin.
These logistics are not the fun part of the day, but if we manage them, the day will be more fun.
Maps of River Run Learning Areas.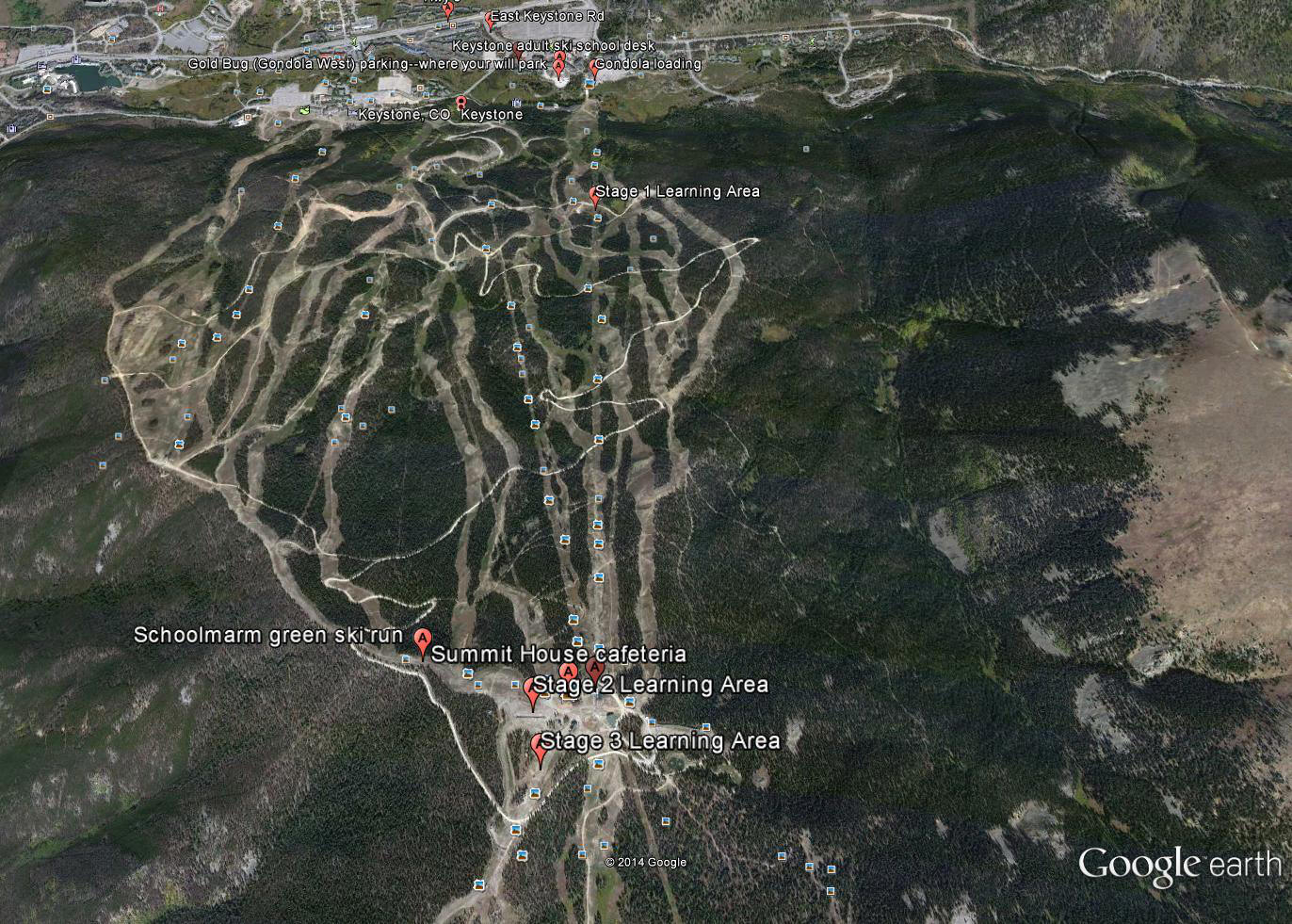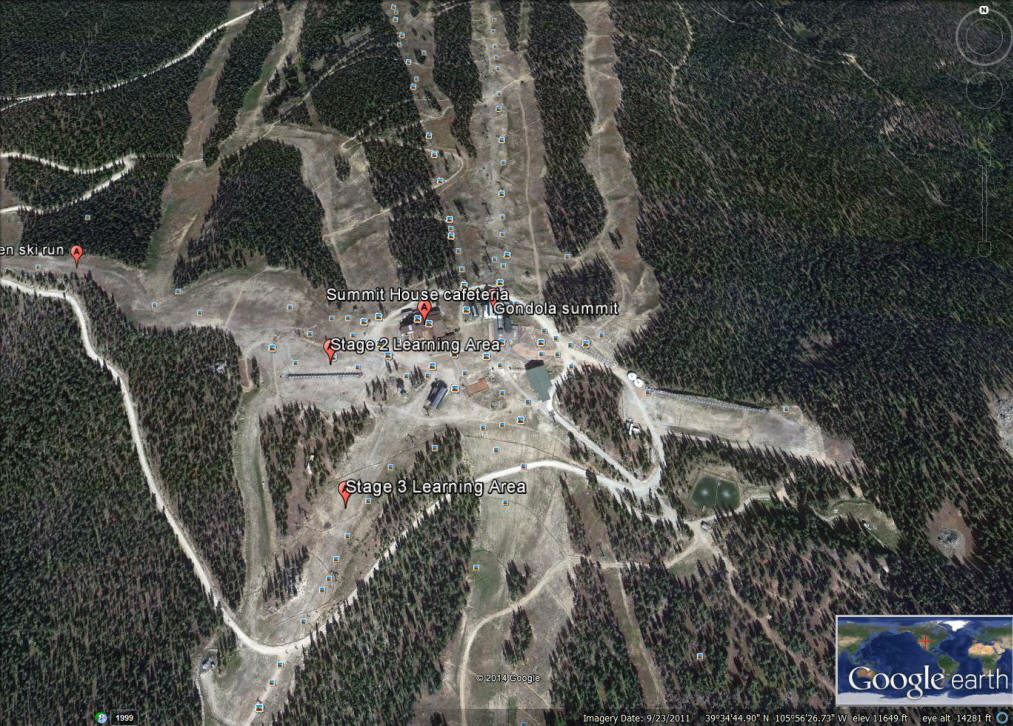 Back to How To Reserve Private Ski Lessons with Bill Jones
This "What You May Expect in a Level 1 Private Ski Lesson at River Run, Keystone" page last modified January 9, 2022. Did you come here from a link on another website? For latest version of this page, copy to your browser: http://www.SkiMyBest.com/skibegrr.htm. Copyright © 2013, 2014, 2015, 2016, 2017, 2018, 2019, 2020, 2021, 2022. William R Jones.