Did you come here from a link on another website? See page bottom for latest version of this page.
This site is not associated with any ski area. Use of any page means you accept the SkiMyBest Site Use Agreement or EXIT NOW.
Back to "How to Reserve a Private Ski Lesson with Bill Jones"
bill's annual ski letter 2019-2020
by Bill Jones, Ski Instructor
Certified Professional Ski Instructor (Registration #110478), Level III
private ski lessons at Vail Resort ski areas of Keystone, Breckenridge, Vail, Beaver Creek/Arrowhead, and at other areas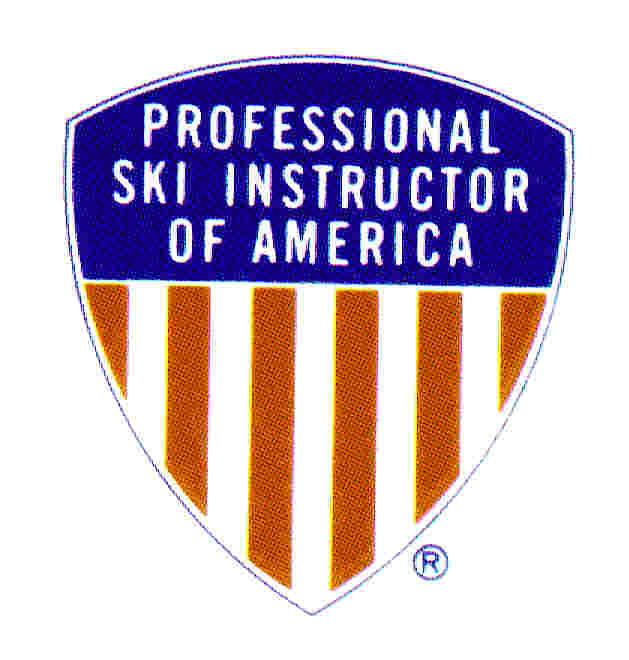 BILL JONES SKI LETTER 2019-2020


Skiing has started in Summit County, Colorado, and it is time to make plans for your winter trip(s) to enjoy this marvelous sliding sport.
I will again be instructing as a Vail Resorts employee (the company now has over 30 ski resorts) based at the ski school at Keystone but also able to teach private lessons at other areas such as Breckenridge, Vail, and Beaver Creek. Get information on booking at www.keystoneresort.com or call the Keystone Ski School at 1/800-255-3715. See my website www.skimybest.com with its included ski manual "Skiing is a Sliding Sport", email me at billjones@skimybest.com, or call me at 970/468-7673. I'd love to ski with you and/or ski with you again and help you get to your next level of skiing fun (see "Ski Styles" below).
Bill Jones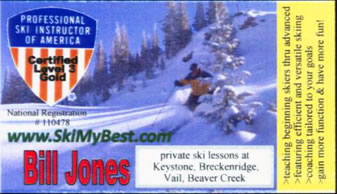 37th year helping skiers in Colorado ski better to have more fun


SKI STYLES: "Double-edge Death Grip", "Lock and Step", "Glider"
My business ski card carries this motto:
"featuring efficient and versatile skiing…gain more function and have more fun".
There are lots of ways to ski. There is a way to ski more hours and more days and have more fun longer.
Some years ago a ski instructor stood beside a moderate ski slope and watched skiers coming down, classifying them by how they skied. He found four styles. Here we will deal with just three as the fourth is a special case. You may have heard me explain these if you have skied with me in a lesson.
Style 1: "Double-edge Death Grip"—This skier is fearful of sliding down the hill so has learned to position the skis in a V with the point of the V downhill and the ski-arms of the V widening out to the back, aka "snowplow". In this the skis' sides nearer the center of the V angle downward. This causes the skis' edges to scrape against the snow creating friction and if the slope is not too steep the skier will slow or stop. The position is awkward for the body and demanding of the legs.
Style 2: "Lock and Step"—This skier is less fearful of sliding down the hill than the Style 1 skier, yet still wants to keep a grip on the snow at all times. With the skis pointed less than straight downhill, the lower ski is tipped to press its uphill side into the snow as an anchor, while the uphill ski is stepped around the anchored one. This is an athletic movement requiring continual muscle engagement of the legs and activating hips, torso, and arms. Persons in fine physical condition use this style with no problem.
Style 3: "Glider"-The skier positions both skis so their bases are flat on the snow, turns them with the legs so they point a new way, and as they turn the skier tips both skis so their uphill sides engage the snow and their shape causes the turn to continue. Most of the movement is in the feet, ankles, and lower legs.
Occasionally I have gone out as the above ski instructor did to stand beside a moderate ski run and see how many skiers use each of these styles. Clearly style 1, "Double-edge Death Grip" is not favored on such a slope except by some children and a few adults who seem to struggle. Style 2 "Lock and Step" skiers dominate in numbers and stand out by how they swing their arms, shoulders, and hips. Style 3 "Gliders" are in the minority or absent; they move their bodies little and seem to be descending as if by magic in smooth arcs, looking graceful. On steeper hills, however, I find more gliders.
Let us be gliders.
How to become a glider: We have to "let go" of the snow as we start a turn. To stand on a ski hill we must position our skis so they do not point downhill too much, then tip them onto their uphill sides so they engage the snow. To let go of the snow , we must relax the feet and ankles so the skis go flat to the snow. If we are balanced well on the middles of the skis, the skis and us will begin sliding sideways and downward. Because the skis are flat on the snow there is little resistance when we rotate just our legs and ankles to turn the skis to point a new way. Once started, the skis automatically tip up onto their edges that are on the inside of the turn because we lean toward the inside of the turn to match the outward forces.
But here's the deal: To do the above can be scary. To be a glider you must let go of the mountain, getting rid of the locked edge as in Styles 1 and 2. You can work up to this by trying it out on gentle slopes. You can also be coached with drills that can help you get to this point in easy steps. The trouble is that "to be balanced well on the middles of the skis" you must position your body so it is generally perpendicular (at a right angle) to your skis and the slope they are on. Thus you are tilted downhill, a position most humans find counter to their intuitions.
Because letting go of the mountain is psychologically uncomfortable, many skiers as they learn to ski are taught instead to use the "lock and step" style. They are told, from a stance where both skis are tipped on their edges, to shift more weight onto one ski, perhaps caused by bending an ankle or knee on that side. Such a method works on gentler slopes. However, it encourages them to start turns by advancing the uphill side of the body, creating a habit that takes effort. Turning effectively and efficiently and especially on steeper slopes, however, demands we start turns by advancing the downhill side of the body, just opposite of the way many are initially taught in "lock and step". Gliding this way uses ski design and gravity as well as positive human anatomy and thus takes less effort.
For many skiers, the "lock and step" style is all they need and want. But to become more efficient as to ski more hours in the day and more days on the ski trip—as well as more terrain and snow conditions and with more fun—they should aspire higher and become a glider. What is your take?
---
Below is a series of images of a world-class glider from www.ronlemaster.com (see more images there and learn about Ron's book Ultimate Skiing. We won't ski that aggressively but the picture helps us understand the mechanics of gliding. See in the upper area where the skis are flat to the snow (just above the top of the C watermark). They have just moved from being tipped onto their uphill sides and will soon move to be tipped initially onto their downhill sides, which as they go around the corner again become their uphill sides. Next, in the lower part of the picture about midway between the prominent blue and red panels on the giant slalom poles, see where the skis again are flat to the snow. Here the ski racer had the option of letting the skis run straight but she chose to turn them when they were flatish to the snow, thus tightening the arc of her turn. She did not turn them when they were tipped, as then they would have been a bit stuck in the snow. Note, too, how her body tips to the insides of the turns but between the turns she moves across the skis and downhill, that scary move.. She appears to do this herself but a recreational skier can do it more passively and thus more efficiently. Finally you can always see where her belly button would be; she must be turning her feet and legs and not her torso.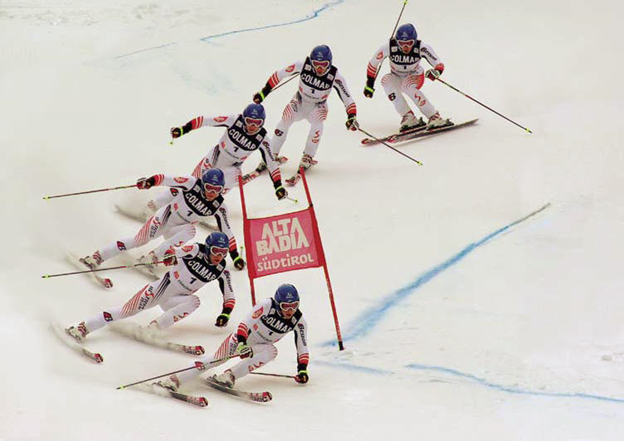 This "Bill's Annual Ski Letter 2019-2020 page last modified November 5, 2019. Did you come here from a link on another website? For latest version of this page, copy to your browser: http://www.SkiMyBest.com/skki letter 2019-2020.html.
Copyright © 2013, 2014, 2015, 2016, 2017, 2018, 2019. William R Jones.